Cargo news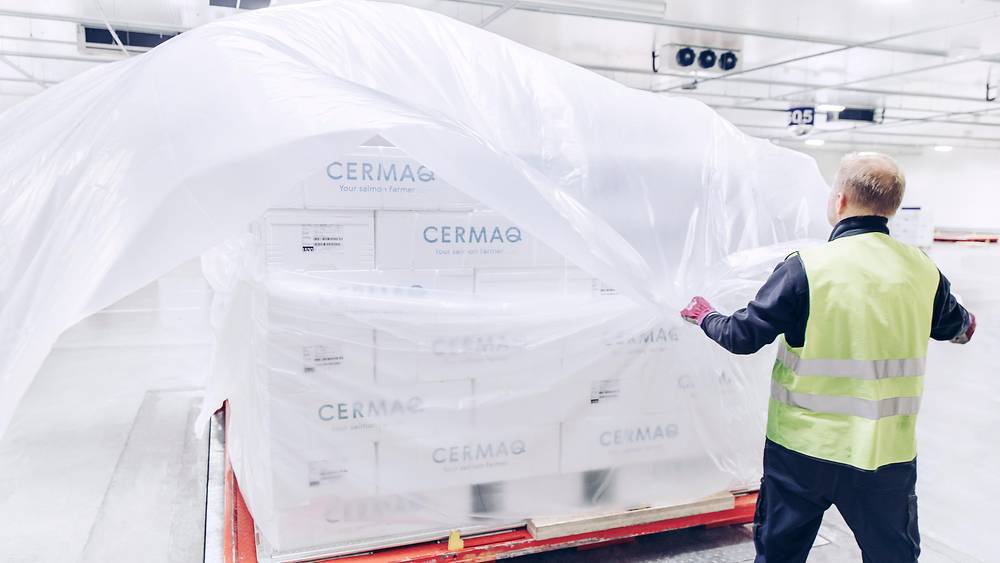 Three big names in logistics have come up with something called the 'Internet of Logistics', but what is it?
The twelfth IATA World Cargo Symposium was held this year and Kari Saarikoski, Finnair Cargo's head of digital, was invited to tell the air cargo industry why Finnair's new Internet of Things in logistics project is ground-breaking for air freight customers. Interview by Peter Seenan. 
You were invited to present Finnair's leadership on digitalisation at the World Cargo Symposium, can you say something about that?
IATA's World Cargo Symposium is one of the most important annual events for the airfreight industry and I was in Dallas, Texas with Janne Tarvainen, MD of Finnair Cargo and Fredrik Wildtgrube, head of global sales.
I was asked to make a presentation about Finnair Cargo's experience of data sharing as an engine for innovation in the airfreight supply chain, as part of the digital air freight programme (PDF), which was one of the most anticipated focuses of the event. Thanks to the new possibilities of data sharing we are developing a cutting-edge 'Internet of Things' logistics project with Ericsson and Panalpina, that some are calling the 'Internet of Logistics'. 
The industry is moving ahead with new digital initiatives that will make the flow of goods more transparent for customers and Finnair Cargo is widely seen as a leading player thanks also to our digitally sophisticated new COOL Terminal in Helsinki and investment in technologies like Cargo Eye. 
In a trial of new robotics technology this year we have also been able to correct special handling code errors twice as fast as humans, meaning my colleagues can work on less repetitive tasks and our operations are faster and more efficient.
The air cargo industry is undergoing a huge shakeup because of digitalisation. By connecting different systems and ensuring the flow of data we can radically improve transparency and efficiency in the movement of goods and meet the heightened global customer demand for more rapid lead times.
What does the 'Internet of Logistics' or 'Internet of Things in logistics' mean?
The Internet of Things when applied to logistics is the whole idea that we can and should radically improve information about shipments during their journey.
Multiple parties in the supply chain should be able to provide and access shipment data in real time sent from physical objects like temperature loggers without the need for human input. The benefits include better visibility about shipments for all stakeholders, greater efficiency and less chance of human error.
In the particular example of our cooperation with Ericsson and Panalpina, the point is to go beyond one-to-one data sharing that we have now and is geared towards multi-party access.
Currently in the logistics industry, visibility on a shipment is kind of lost when it leaves the warehouse because current ways of working do not sufficiently support data sharing between the parties. We need a new common digital platform.
On top of that, so much is still being handled on bits of paper. We want to connect the dots and cut out the emailing, the messaging, the phone calls, all the actions that mean data is spread across thousands of systems. 
How can you enhance the visibility of cargo when it leaves the terminal?
The key idea of our Internet of logistics initiative is to push for new and better standards of data sharing in the industry and share live data with customers and partners. 
Finnair Cargo has invested heavily in technologies like Cargo Eye and SkyChain to ensure that we're able to monitor shipments across their journey, however this is not the same everywhere in the industry because we're talking about a highly fragmented sector that spans the globe. 
Cargo Eye collects live data from across all of our information and tracking systems, such as the global position of aircraft, live flight arrival and departure information, the geographic location of cargo ground traffic, truck temperatures, and data from our enterprise resource planning system, SkyChain. By bringing all this data under one roof we're able to plan ahead and take remedial steps in good time if there's a deviation.  
How is Finnair Cargo able to see the temperature of cargo at different stages of the journey?
We don't yet have full visibility of the temperature across the entire journey for every bit of cargo, but our aim is resolutely an Internet of Things vision, whereby all cargo in our network is providing real-time data to our central control systems. And that includes the temperature of shipments. 
There are so many profound advantages to full visibility and transparency, not least the fact that it prevents cargo from simply sitting around, typically at critical intersection points like airports and customs. Imagine, a flight between Helsinki and Asia might only take ten hours, but it may take days for cargo to clear customs. A well-integrated data system between carriers and customs can allow the clearing process to begin earlier, while the cargo is still in the air.
In the COOL terminal there are sensors that record and control the temperature and an alarm rings if anything goes off track. The pharma-dedicated part of COOL is monitored from the COOL Control Center located at the new COOL terminal. The average temperature in the pharmaceutical area is 20° Celsius and there are special sealed-off rooms for storage between 2° and 8° Celsius and for goods that need to be frozen.
But the very exciting bit is we're far on in the process of testing and developing technologies that allow us to view the temperature of goods in real-time wherever they are in the world. By working with partners to install Internet-connected devices to shipments (a container of fish for example) and in vehicles, we can provide 100% assurance to a restaurant in Japan that the salmon flown by Finnair Cargo has remained at the right temperature throughout its entire journey from Norway to Tokyo. The same goes for pharmaceuticals and other temperature-sensitive high-value cargo.
Very exciting, so what other digital innovations have you got up your sleeve?
Innovation is happening in many different forms. One of the most exciting things on the horizon is providing more data and visibility to our customers, another is bringing our new COOL Terminal up to its full ground-breaking potential. 
On top of that, we've had numerous successful tests with sensors that record tens of thousands of data points, so someone receiving a shipment could even go through that shipment's journey point by point, to see what happened long before it arrived in their hands.
I'm excited about the additional intelligence and optimisation that is becoming part of cargo life on the terminal floor. Terminal operators now have forklift-mounted tablets that optimise their tasks and guide efficiency. We're also looking at how we can make better use of advanced robotics to automate routine tasks to ensure our staff can concentrate on more value-adding tasks.