Cargo news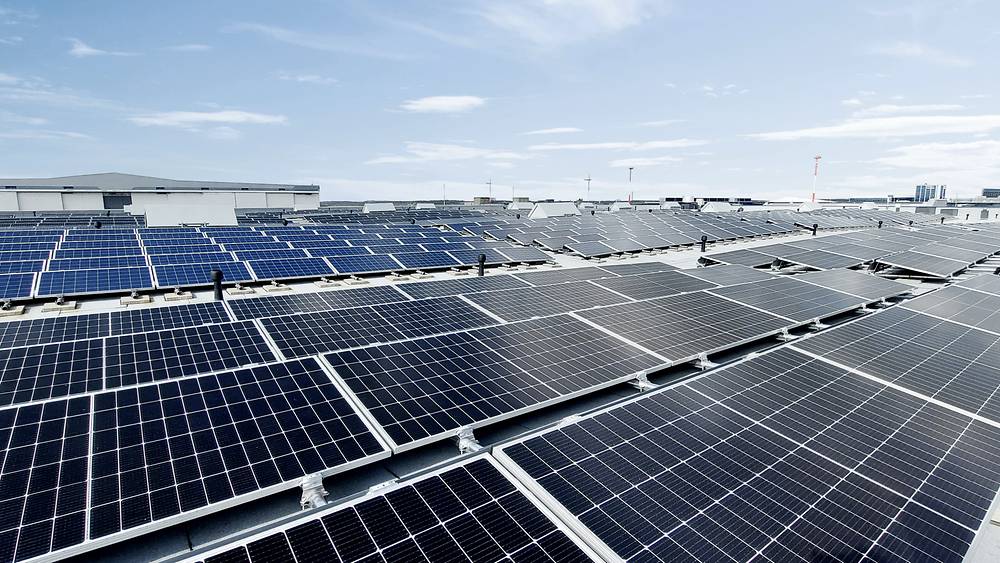 Upgraded solar plant powers Finnair's cargo terminal
Finnair Cargo's COOL terminal was designed to meet high sustainability standards. The roof of the three-hectare terminal has been in use as a solar plant from the beginning but has now been extended to cover about 37 per cent of the terminal's energy use.
Finnair Cargo's hub terminal at Helsinki Airport is a vast, over three-hectare space, out of which 6000 sq meters are temperature controlled. The terminal is Europe's most advanced air cargo terminal where operations are supported by robotics and intelligent warehouse automation.
The BREEAM (Building Research Establishment Environmental Assessment Methodology) certified COOL cargo terminal was opened in 2018 and designed with sustainability and energy efficiency in mind. Originally the building had 1200 solar panels on its roof providing around 10 per cent of its energy.
- The decision to increase the number of solar panels was made as the building is in an optimal location; far from any shading or contaminating factors and the roof structure is perfect for solar panels, explains Arne Ziessler, Head of Facilities at Finnair.
Peak times will provide enough energy for surrounding buildings too
The number of new solar panels installed is considerable, with 1790 new panels. After the upgrade, solar panels produce 1,1MW, which is the equivalent of 37 % of annual electricity consumption of the terminal.
- On a sunny day, the COOL terminal is completely self-sufficient in terms of electricity production and the excess production will be fed to other Finnair facilities such as one of the aircraft maintenance halls, says Mika Kilpinen, Development Lead, Operations, Quality & Compliance.
The solar panels have other energy efficiency benefits too. The panels themselves act as insulation for the terminal space below, which also means lower energy consumption.
The upgrade is seen as a very long-term investment, improving its sustainability credentials even further.
- The lifecycle of the solar plant is at a minimum 25 years, Kilpinen points out.
Solar power contributes to Finnair's sustainability strategy
The solar plant upgrade was considered thoroughly and put out to tender. The provider chosen in the end was the same one that had provided the original solar panels.
The installation work progressed in schedule meaning that the solar plant facility is in full operation by the end of October 2023, in time for Finnair's 100th birthday.
The investment in renewable energy is seen as a way to put sustainability goals into action. It also means that the terminal will now use the greenest electricity possible.  
- In everything that we do we aim to find the most sustainable solutions. Utilizing the COOL roof space for solar energy fulfils all our criteria for sustainability improvements. It would have been impossible to not make this investment, Ziessler sums up.