Cargo news
Finnair Cargo enhances capabilities for temperature-controlled transportation with va-Q-tec containers
Finnair Cargo and va-Q-tec have started a cooperation to provide its customers va-Q-tainers for transportation within Finnair aircraft. va-Q-tec is the leading of advanced passive container manufacturer and pioneer in the world, providing a reliable and safe container solutions for logistics across all demanded temperature ranges. Partnering with va-Q-tec will reinforce Finnair Cargo's portfolio of solutions for temperature-controlled packages.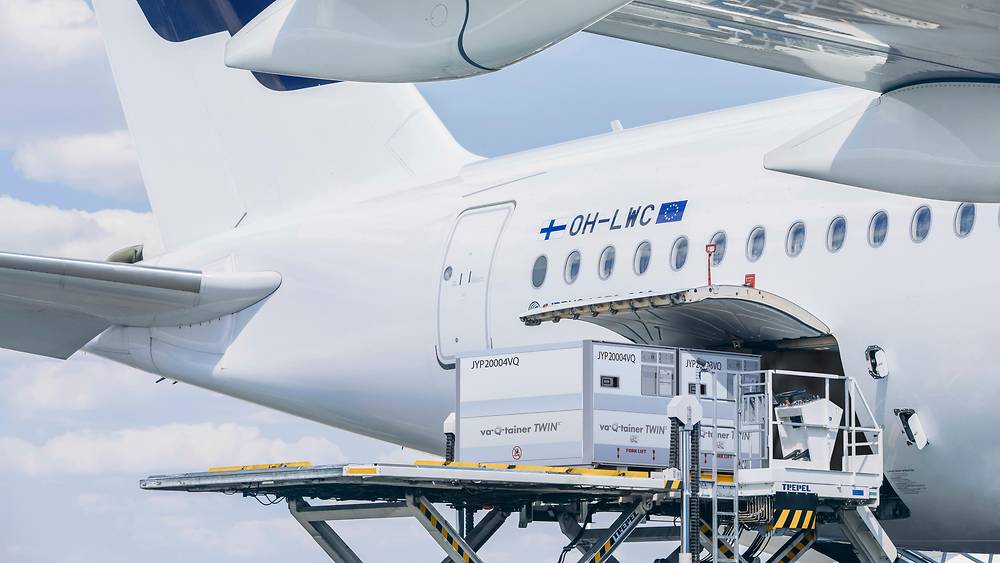 Finnair Cargo specialises in carrying temperature-controlled cargo between Europe and Asia. Finnair Cargo operates from Helsinki Airport which has a short, direct and energy efficient route to all major cities in Asia, ensuring fast and environmentally responsible deliveries within Finnair's flight network.
'Finnair Cargo has a long history of building excellence in temperature-controlled logistics and we are proud to operate one of the most modern cargo facilities in the world', says Vice President, Finnair Cargo Fredrik Wildtgrube. 'The cooperation with va-Q-tec will expand our offering and help us to solve wider spectrum of customer logistics needs related to pharmaceuticals, alimentary or other special cargo items.'
va-Q-tec is a pioneer in thermal packaging solutions since 2003 and caters all customer needs in different sizes and temperatures, ranging from -80°C to +25°C. Thanks to the unique and high-performance vacuum insulation, va-Q-tainers are capable of maintaining temperatures for more than 120 hours at even extreme ambient temperatures. They are sustainable and true door-to-door solutions that require no external energy supply. Having around 40 service centres around the world, the solutions are readily available across Finnair Cargo's network between Europe, Asia and US.
Dr. Joachim Kuhn, CEO and Founder of va-Q-tec, comments: "Our innovative high-tech containers fit perfectly into the portfolio and operations of one of the world's most modern cargo terminal. They are the most technologically elegant, state-of-the-art solution for safe, reliable handling of temperature-controlled supply chains. We are proud to count Finnair Cargo as one of the largest air cargo carriers in the Nordic and Baltic region to our network!"
Demand is growing in pharmaceutical transportation globally. Air cargo is also expected to be in a key role in solving the challenges in the global distribution of Covid-19 vaccines. Building partnerships with container manufacturers will ensure safe temperature-controlled deliveries across the supply chain within Finnair Cargo's network.