Seafood
Seafood
With decades of experience Finnair Cargo offers a reliable and fast solution for the transportation of fresh fish and seafood featuring Nordic cool chain, daily frequencies and top priority handling. By choosing Finnair as a partner, customer will benefit from the top quality services and the most direct routes between Europe and Asia.
Service features
In 2019 Finnair Cargo carried up to 100 000 kg fish and seafood daily.
Daily shipments to multiple destinations in Asia.
Long-standing and successful co-operation with shippers and forwarders.
Finnair Cargo follows the guidelines set by IATA PCR.
High priority for Fish & Seafood shipments.
Special handling in all stages of the routing.
Short transit time in Helsinki Hub.
Minimized tarmac process time.
Temperature-controlled facilities. *
Trained and experienced personnel.
Temperature-controlled cargo holds. *
Covered cargo dollies during tarmac process to protect from extreme weather conditions in Helsinki Hub.
Flexible and agile in case of irregularities.
* Subject to station/aircraft limitations.
Wet cargo
Very often perishable cargo meets the definition of wet cargo: "Wet cargo means shipments containing liquids, or shipments which by their nature may produce liquids." Wet cargo should be packed and handled in a manner that prevents any spillage inside aircraft.
General restrictions for Perishable Cargo
Finnair does not carry whale meat or whale meat products.
Marking and Labelling
All perishable shipments should be labelled with the standard IATA "PERISHABLE" label. Where appropriate, packages and containers of perishable goods should also be labelled with the standard IATA package orientation ("THIS WAY UP") label and marking showing the desired temperature. Note! IATA Time and Temperature Sensitive-label must not be used for other perishables than pharmaceuticals.
Acceptance of perishable shipments
Perishable shipments are not accepted if the contents do not appear to be in good condition, the packaging appears to be inadequate or if it is evident that the goods will not reach their destination in a satisfactory condition or it will not be possible to deliver the goods to the consignee. Shipper's instructions concerning temperature should be followed as strictly as possible.
Short transit times in Helsinki combined with great geographical location ensure one of the fastest routings from Northern Europe to Asia.
Total transportation time with Finnair Cargo is ~34 hours: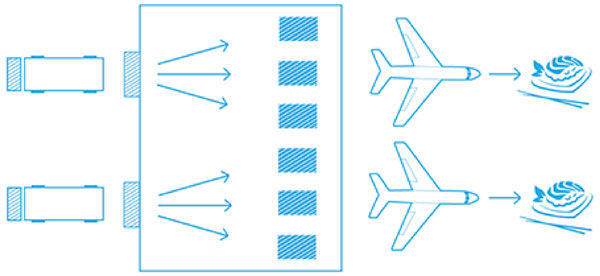 Fresh fish must be completely enclosed in waterproof material and handled as "wet cargo". Any wet ice used needs to be sealed within its own watertight container. The correct SPH code information from the customer is the key in ensuring proper storage for fish and seafood.
| | | |
| --- | --- | --- |
| Nature of goods | Temperature range | Temperature controlled facilities |
| Refrigerated storage (COL) | +2 to +8 degrees Celcius | 2100 m2 |
| Freezer storage (FRO) | -18 degrees Celcius | 44 m2 |
Covered cargo dollies for temperature-controlled units
Dollies are designed to protect CRT/COL units during transportation from cargo terminal to aircraft stands in Helsinki Hub.Covered cargo dollies for temperature-controlled units
They are also used to protect shipments from direct sunshine in summertime.