Cargo news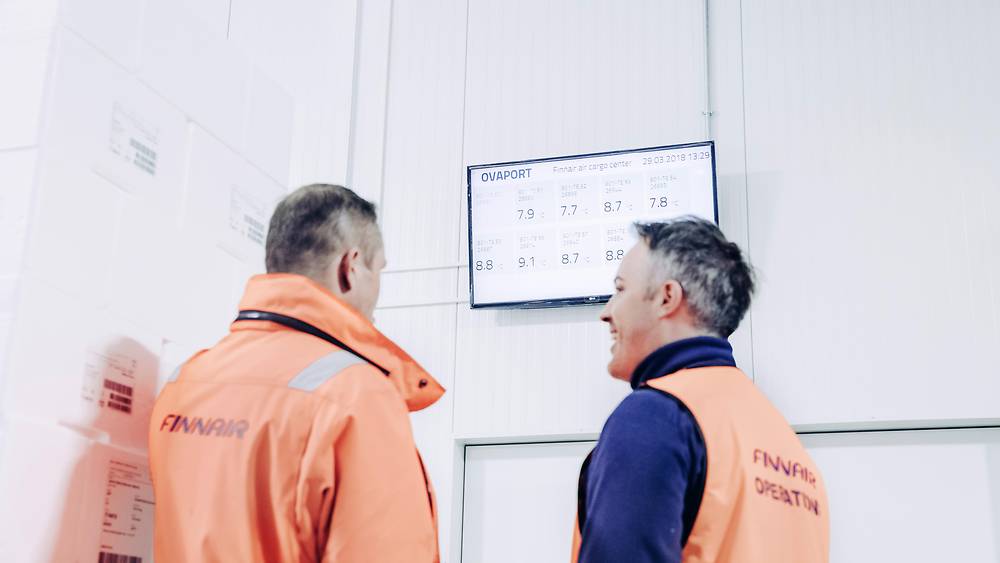 Norwegian king crabs flying Helsinki to Seoul
Finnair Cargo does not only carry containers of inanimate freight; it is also equipped to take care of some special passengers.
Over the years all kinds of animals have been safely carried in the holds of Finnair aircraft, the inflight menagerie of which has included horses and snow leopards. Of late, king crabs from Norway have joined the procession of creatures boarding the Finnair arc.
The leg span of these enormous crustaceans can measure nearly two meters and their meat is highly valued, not least in South Korea. Seoul, the capital of that country, is the usual destination for the crabs carried by Finnair. The clean waters of northern Norway are their preferred origin for the discerning Korean market, and Helsinki is the obvious freight hub for their transport, in terms of geography, logistics and handling facilities.
"The crabs can survive about 35 to 40 hours from tank to tank," explains Lasse Wangen of Norwegian forwarding agent Salmosped AS. "They are packed in either styrofoam or cardboard boxes with moist packing material to keep the gills wet. Time is crucial, the main objective being to keep the total number of hours to a minimum. Finnair has high punctuality standards with low cancellations, and a high service and performance level – crucial for transporting live crabs." 
The crabs are stored at low temperatures during transport, which relaxes them and reduces stress. 
Unmatched transit times
"Salmosped turned to us because of our long experience in handling and transporting salmon and other fish from Norway, and relationships built over the years," says Pasi Nopanen, Finnair Cargo's sales director for Scandinavia and North America. 
"Another issue is the solution we can offer. At the moment nobody can match our transit time with direct trucking from northern Norway to Helsinki Airport and direct flight connections to the Far East."
Transport from terminal to aircraft is also a critical part of the process, says Nopanen, not least because temperatures vary in Finland from well below zero in winter to the high 20s in summer. "Live crabs also require gentle handling; if we drop the box during terminal handling, most likely the crabs won't survive it."
Another really important issue is communication. It is critical that the truck driver and Finnair are in close contact, to make the transfer as smooth as possible.
Growing demand for King crabs led by Asia 
The future for this service looks bright as the demand for live crabs is big. The consumers want food that is as fresh as possible, and crabs from the Arctic area are very popular, especially in Asia. To meet the growing demand, the development of rest tanks and pools has started.
"I think we have just seen the start of it," says Salmosped's Lasse Wangen. "I think a slow but steady growth is the key to maintaining the price level in the market rather than putting stress on the supply-and-demand situation."
From an ecological point of view, fishing for king crab serves a useful function. This invasive species was introduced from the Russian Kamchatka waters some decades ago. Biologists are concerned about its spread and fishing remains limited by quotas. 
"Sustainability is a really important issue for us at Finnair," says Nopanen. "Our solution provides the shortest and fastest transport time and distance, so our solution is the most sustainable available." As European launch airline for the new Airbus A350, he adds, Finnair will be able to reduce emissions still further.